Amber Guyger Gets 10 Years for MURDER as Man Gets to 99 Years for Kicking a Cop
As TFTP reported on Tuesday, the family of Botham Jean thought they were finally going to see some justice after the police officer who killed their beloved son was found guilty of murder. While the guilty verdict was certainly a welcomed rarity, on Wednesday, this killer's blue privilege finally shined through. For murdering an innocent man in his own apartment, Amber Guyger was sentenced to just ten years in prison.
"Of course that's inadequate. The entire justice system is inadequate and the work must continue," S. Lee Merritt, an attorney who represents Jean's family, wrote on Twitter.
The jury has convicted Amber Guyger of ten years. Of course that's inadequate. The entire justice system is inadequate and the work must continue. pic.twitter.com/NACo3lyO4G

— S. Lee Merritt, Esq. (@MeritLaw) October 2, 2019
Dallas District Attorney John Creuzot, whose job apparently consists of helping killer cops escape any real accountability, said his office is pleased with the sentence. "We're going to move on and Botham's family is moving on," he said.
But Botham's family can never move on. The person who shot and killed their son as he ate a bowl of ice cream in his own home is only going to serve a few years in jail while their son is never coming back. No conviction, nor measly sentence will ever change that.
Showing just how much blue privilege was given to Guyger, the judge actually gave her a hug before she was taken off to jail. Seriously. As Guyger was being taken back to jail, District Judge Tammy Kemp apparently gave her a Bible and then hugged her, saying, "you can have mine. I have three or four more at home."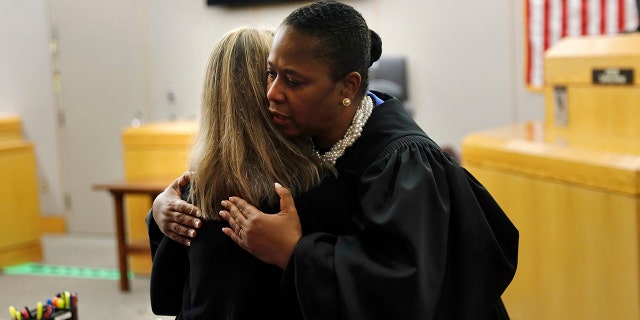 How many other convicted murderers receive hugs and parting gifts from the judge who resides over their case? We are willing to bet the answer is zero.
After the sentencing, Allison Jean, Botham's mother told reporters that this trial exposed just how corrupt the Dallas police department is.
"The city of Dallas needs to clean up inside. The Dallas Police Department has a lot of laundry to do," she said.
Indeed, they do. As TFTP reported, no search warrant was ever executed on Guyger's apartment. On the contrary, however, the police had no problem releasing information about the victim. On the day this mother had to bury her son, police chose to release the results of the search warrant from his apartment, claiming they found a tiny bit of pot.
What's more, Guyger wasn't immediately arrested despite admitting to killing Botham. It would take the police department three days to bring charges against her. Had the roles been reversed and Botham would have shot Guyger, rest assured that he would have been immediately thrown in jail and there would have been no hugs or bibles handed out after his sentencing.
What Guyger's sentence shows us is that there are two sets of justice systems in this country. There is one for the establishment class made up of bureaucrats, politicians, and law enforcement, and one for everyone else. Had Guyger not been part of the establishment, rest assured, she would have received more than just ten years. However, because she was a cop, she was able to kill an innocent person and will likely be free in less than three years.
To highlight this insidious disparity inside America's justice system consider the following story. In Denison, Texas, just a few miles north of where Guyger murdered Botham Jean, a man was sentenced to 99 years in prison. His crime? He swung his bare foot in the direction of a cop's head while he was being held down during a forced blood draw.
Last week, Donnie Mills, 59, was sentenced to 99 years in prison because he kicked in the direction of a cop while officers were forcibly drawing his blood during a DUI stop.
As Mills was being loaded onto a gurney, barefoot and angry, he swung his leg out at officer Chris Bell and reportedly kicked him in the face. Since Mills was laying down, intoxicated, had his hands cuffed behind his back, and was barefoot, the kick was little more than a light shove. In fact, officer Bell was not injured and required no medical attention.
Kick a cop, get 99 years. Be a cop and murder an innocent man, get just 10 years. Now pledge your allegiance to the God damn flag, citizen!
Article originally published by Matt Agorist at The Free Thought Project.
Matt Agorist is an honorably discharged veteran of the USMC and former intelligence operator directly tasked by the NSA. This prior experience gives him unique insight into the world of government corruption and the American police state. Agorist has been an independent journalist for over a decade and has been featured on mainstream networks around the world. Agorist is also the Editor at Large at the Free Thought Project. Follow @MattAgorist on Twitter, Steemit, and now on Minds.